Hala Alyan, Voice of the Diaspora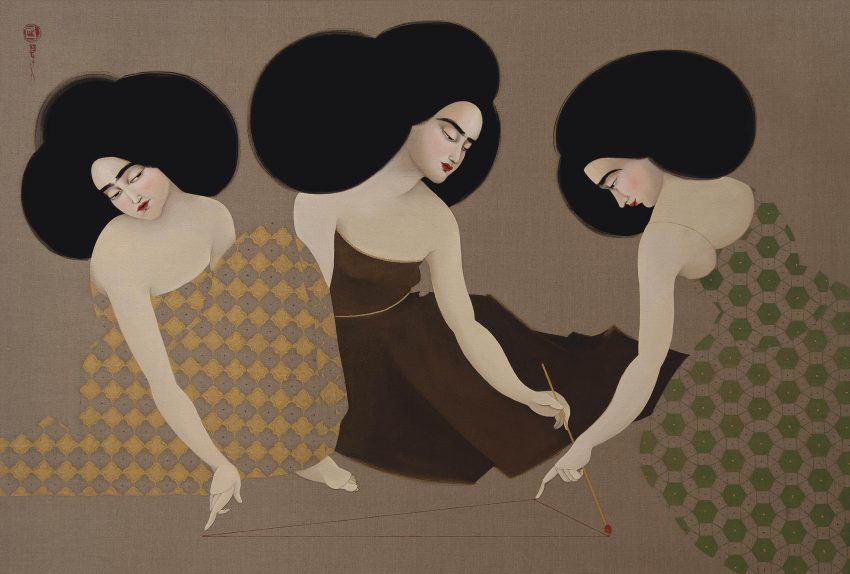 -The Triangle by Hayv Kahraman
Lately, I have been reading more and more of Arab authors' texts in the diaspora. I stumble upon these writings almost as if it is destiny. These books have been a lifeline in moments of despair and depression. Hisham Matar, Tayeb Salih, Amin Maalouf, Zeina Arafat, and Hala Alyan and … The more I read, the more I am drawn to them. I am drawn to the pain that finds its way through the lines. The pain of oppression, displacement, difficulty to find a home in this world, and growing up in the diaspora. Today, there is a greater abundance of Arab and African literature accessible to readers. After colonialism, after invasions, after a history of erasure, after the Nakba, after the six-day war, and after the Arab Spring, these people, scattered around the world, adopted the language and claimed their narratives. It is no wonder that this generation has so much to tell. 
Hala Alyan is a Palestinian-American author who has a loud voice in the diaspora. She is an accomplished speaker and advocate. She has given talks and readings, sharing her insights on the craft of writing, the immigrant experience, and the power of storytelling as a means of fostering empathy. Born in 1986, Alyan spent most of her life navigating between different cultures and countries. In a Letter to my husband, she says:
Growing up in a diaspora means normalizing interrupted narratives—there are no ancestral houses, no legacy schools, no ritualized sense of place… Moving becomes easier than fabricating roots; any effort toward the latter only highlights the dislocation.
She was born in 1986 to a Palestinian father and a Syrian mother in Carbondale, Illinois. They moved back to Kuwait but a few years later, after the invasion of Saddam in 1990, they moved to Syria and eventually took refuge in the US. They lived in the Midwest for a while, and when she was thirteen, they moved back to the Middle East, living in places like The United Arab Emirates, Tripoli, and Lebanon. She did her undergrad at the American University of Beirut, and they lived in Beirut, home to many expats, for a while. She moved back to the United States for grad school, and she has been living in Brooklyn ever since. This multicultural upbringing gave her a unique perspective in her writing and her poetry.
Alyan's poetic journey began at a young age. She started writing poetry as a means to make sense of the world around her, finding solace in the power of language to convey complex emotions. She performed her poetry in open mics and clubs and attracted the attention of the Three Rooms Press, an independent publishing company based in New York City. They asked her if she might have a collection of poems, and her poetry collection "Atrium" was published in 2012.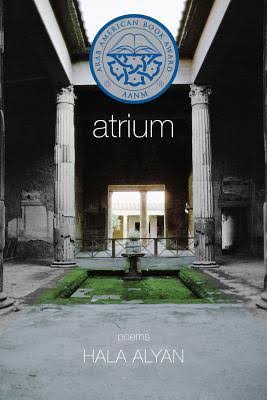 Her debut poetry collection, "Atrium" (2012), marked the beginning of Alyan's literary career. In this collection, she delves into themes of love, loss, and longing, employing vivid imagery and striking metaphors to evoke visceral emotions. The collection received critical acclaim and established Alyan as a poet to watch. She was awarded the 2013 Arab American Book Award and the 2013 Crab Orchard Series in Poetry First Book Award for her exceptional talent. In her latest poetry collection called The Twenty-Ninth Year,  she portrays a vivid catalog of heartache, loneliness, love, and joy, The Twenty-Ninth Year is an education in looking for home and self in the space between disparate identities. 
Gabino Iglesias In an NPR review of Twenty-Night Year says:
"Nothing is taboo here. There are honest discussions about sex, drinking, and trauma. Sometimes these are coping mechanisms and sometimes they are things that arise by themselves. Regardless of their origin or context, these elements offer a candid, unique glimpse into the life of a woman as she deals with the complexities of being a Palestinian in exile, a young woman navigating cultures where womanhood is treated differently, and a person looking for love. Alyan exposes her life and her roots without shame, even when her words could lead to judgment. In poem after poem, there is raw emotion, straightforward storytelling, and unapologetic truth."
I stole your name and at night, alone,

I whisper it into the dark: the

vowels none of my great-grandmothers could've said.
Building on the success of her poetry, Alyan turned her attention to fiction. Her debut novel, "Salt Houses" (2017), gained widespread praise for its masterful storytelling and nuanced portrayal of intergenerational trauma. The novel follows the journey of a Palestinian family across generations, exploring the impact of displacement and war on their lives. It focuses on two pivotal periods, the first after 1967's Six-Day War, and the second following Saddam Hussein's 1990 invasion of Kuwait. Filled with raw emotion, the book ensnares your heart, immersing you in the lives of its vividly authentic characters. It comes as no surprise to me that, in an interview, Alyan acknowledged Jhumpa Lahiri as a significant influence on her work. It's one of those novels where you can feel the temperature and smell the cooking and taste the cuisine through the pages. The prose is so lyrical and warm that will leave a mark on your soul, much like a novel by Jhumpa Lahiri.
Her second novel, The Arsonists' City is about a family story, a personal look at the legacy of war in the Middle East, and a memorable rendering of how we hold on to the people and places we call home. The Nasr family is spread across the globe—Beirut, Brooklyn, Austin, and the California desert. A Syrian mother, a Lebanese father, and three American children: all have lived a life of migration. Still, they've always had their ancestral home in Beirut—a constant touchstone—and the complicated, messy family love that binds them. It is a lengthy novel that takes you to the heart of the complex dynamics of a Lebanese family scattered across the globe, grappling with secrets, heritage, and the enduring power of home. Alyan effortlessly weaves together multiple narratives, crafting a tapestry of emotions that resonate with readers on a profound level. In Arsonists' City, Hala Alyan turns a story of a family, into a story of a nation.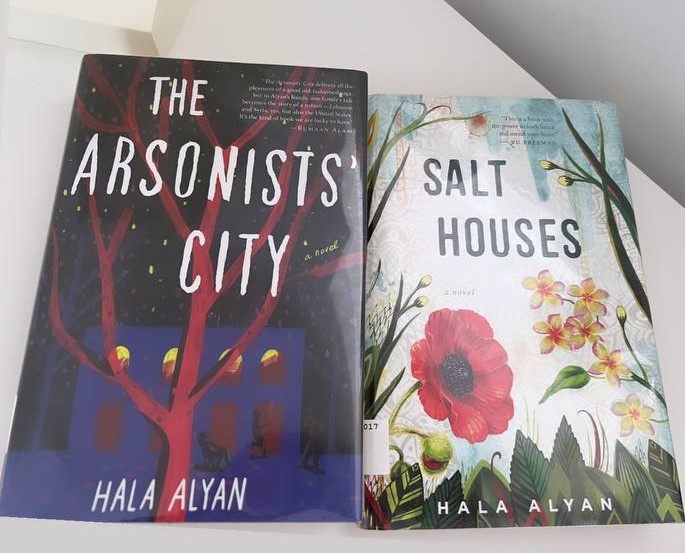 Having always Gaza in her mind, she advocates passionately for Palestine. In her writings, she writes about her identity as a Palestinian and her bond with her ancestors. Times are hard and have been for a long time for Arabs And if you are an Arab woman living in the diaspora, it could be especially hard.
Hisham Matar in a thought-provoking essay, called: Writing with the Horror says:
I don't think people realise how hard things are for Arabs now. And how hard they have been for a long time. I don't, for example, think people truly understand how horrible it has been to grow up watching Palestine being eaten away with each passing day. I don't think even we Arabs understand the full psychological effects it has had on us as a people, the despair and anger, the self-loathing it has inspired, expressed in the Palestinian-bashing that many Arabs sadly engage in.
In a letter to my husband, she struggles to explain her belief in God to her atheist husband, she reflects on her upbringing and faith as a Muslim that links her to her family, to Palestine, and to histories of erasure:
I AM A CULTURAL Muslim.

Sometimes even I don't know what that means. The five pillars of Islam are faith, prayer, charity, fasting, and pilgrimage. I grew up in a house that gave zakāt. Sometimes I fasted.

my first two memories of faith are linked with the women in my family.

The first memory is watching my mother pray for my father's safe exit from Kuwait. The second is my grandmother teaching me the al-Fātiḥa, the first sura of the Qur'an, meaning "opener," to share the keys of treasure. We are cuddling on my twin-size bed in Oklahoma. I am six and Kuwait is behind us, but I still have nightmares and am uniformly in a state of anxiety. She is reciting words, then having me repeat them, and every time she inhales, I do as well, filled up with love for her. I feel her chest heave up beneath my ear— "the Compassionate, the Merciful"—and think about how she will die someday.
Hala Alyan is aware of her situation; In her interviews, she considers herself lucky and privileged to have an American Passport. She knows as someone who can speak English without an accent and not wearing a veil, she is read and heard differently in the West, and she doesn't take this for granted. I think that is what makes her remarkable. Her voice, both on the page and in person, is one of compassion, understanding, and a deep appreciation for the beauty and complexity of the human condition.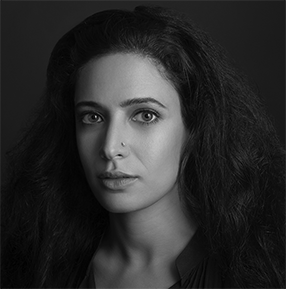 Hala Alyan continues to write about identity, displacement, and belonging in her poetry and fiction and teaches writing at Sarah Lawrence College in Brooklyn. Her first nonfiction book, "Now You See Me" will be published by Simon & Schuster in 2023. She is the winner of the Dayton Literary Peace Prize and the Arab American Book Award and a finalist for the Chautauqua Prize, and four award-winning collections of poetry, most recently The Twenty-Ninth Year. Her work has been published by the New Yorker, the Academy of American Poets, Lit Hub, The New York Times Book Review, and Guernica. In her psychology practice, she deals with the assessment and treatment of trauma, substance abuse, anxiety, relationship concerns, and cross-cultural issues. Most of her work is with clients belonging to LGBTQ, immigrant, and marginalized communities.